Cats - Lesley Anne Ivory Collection
Lesley Anne Ivory is without doubt the most talented cat artist of this generation. Her work has evolved over many years into a distinctly recognisable genre where attention to detail is paramount to the appeal of her work. At the core of her work Lesley loves and understands cats, she is delighted that so many of her favourite cats, Agneatha, Muppet, Octopussy and friends have been chosen for these exquisite ceramics. Lesley has been illustrating and painting all of her life having studied at St Alban's School of Art then working as an Art Teacher, her work has been regularly exhibited at The Royal Academy and in galleries in London and New York.
Offering a classic take on these graceful animals this collection of cat ceramics is ideal for cat-lovers everywhere. With each item depicting a different type of cat, there is something for everyone. They make the perfect gift for friends and family members alike, or you can treat yourself to a set of beautifully designed fine bone china.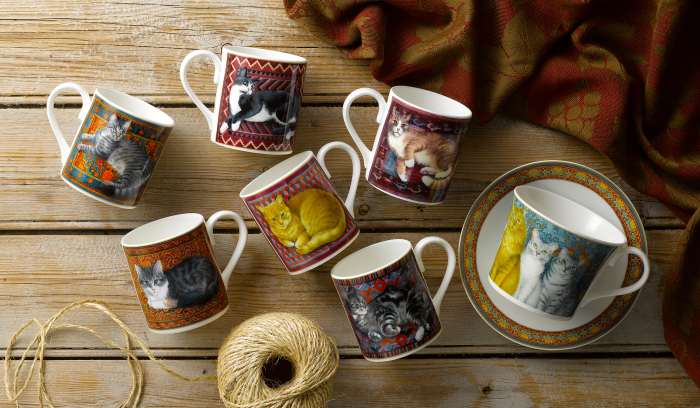 The background patterns create a homely feel, whilst the relaxed nature of the cats depicted on the pottery create a sense of peace and tranquillity. All of our china is designed with the highest quality, so the colours on these designs really stand out and create an eye-catching display.
The collection includes six different designs of sets of 3 mugs and a set of 2 cups and saucers. Each cat design is based on real-life cats and are individually named, adding character and life to our porcelain products. They make the perfect addition to your home and kitchen.
We have many collections available on our site today, with a vast range of designs, colours and styles. We understand that it can be difficult to choose just one, so take your time browsing through our site to find the perfect design for you or as a gift. If you have any questions or would like to make an enquiry, contact us today and our team will be happy to help you. If you would like to buy any of our products in bulk, please contact our team to discuss your requirements.