Blenheim Palace Indian Room Collection
A fine bone china collection inspired by the beautiful hand painted wallpaper designs of the Indian Room at Blenheim Palace. The rare and intricately decorated wallpaper was created by French painter Bernard Dufour and was commissioned by George Spencer-Churchill, 5th Duke of Marlborough in 1826. Dining items include gold detailing, to frame the artist's delicate design.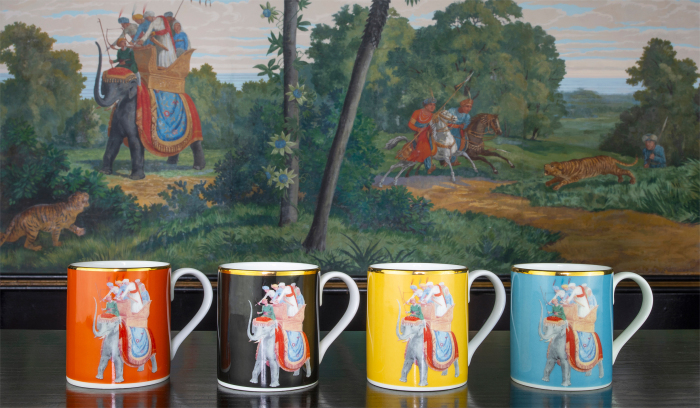 Live the life of luxury with the Blenheim Palace Indian Room collection that offers something unique to our collections of fine bone china. Vibrant block colours draw your attention to the china and the delicate, hand-painted imagery pay homage to the hand painted wallpaper in the Indian Room in the palace. These colours are warm and inviting, offering the perfect addition to your home and a welcoming brew to your guests!
This collection includes four different colours of a set of 3 "Larch" mugs, a stunning tea for one teapot and tea cup and saucer set and a beautiful teapot. The fine china mugs are available in saffron yellow, burnt orange, deep blue and black. Both the teapot and tea for one set include delicate designs of nature, with striking colours and delicate design. Every product in this collection features a gold detailing on each piece.
The teapot and tea for one set have a contemporary design that makes it stand out from the rest. With a more angular shape, they complement the mugs perfectly, particularly against the bright colours found on the tableware. Bring life and colour into your home by collecting the whole set of fine bone china!
All of our china is designed by us, with the highest quality in mind. Any fine bone china you purchase from us will last you a lifetime and you'll have something to cherish, designed with love and care in the heart of Staffordshire, the home of fine bone china.
We have many collections available today, so you'll be spoilt for choice. Take a look at our stunning fine bone china collections and contact us today to find out more about our ranges or if you'd like to place an order. We'll be more than happy to help. If you would like to buy any of our products in bulk, please contact our team to discuss your requirements.