Robin Collection
Inspired by the vibrant and beloved robin bird, our robin fine bone china collection celebrates the delicate elegance and cheerful presence of this iconic creature. A robin redbreast and blossom buds on the trees are a sign that the warmth of spring is on the way. Just as the Robin brings a welcome touch of bright colour in nature, the vivid crimson hues will enliven your home.
Each piece in the Robin Collection is meticulously designed and handcrafted, capturing the essence of the robin's charm and infusing it into exquisite bone china.
Read more below.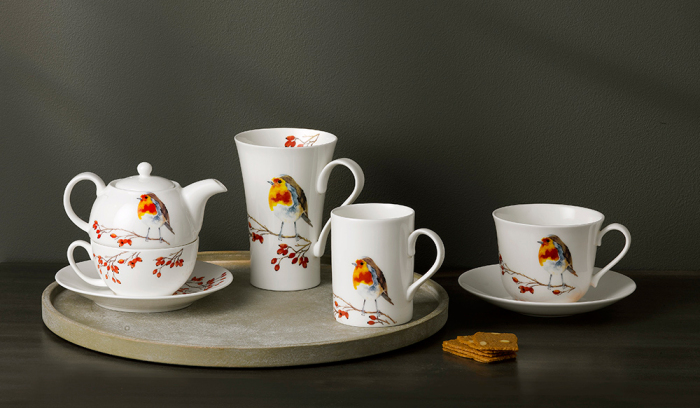 Immerse yourself in a symphony of colours as you explore our robin-themed tea cups, saucers, mugs and accompanying accessories. Adorned with lifelike robin illustrations, delicate botanical accents, and intricate detailing, these pieces evoke a sense of wonder and serenity, bringing the beauty of nature to your tea rituals.
Whether you're hosting an elegant tea party or simply indulging in a quiet moment of solitude, our robin-themed tea sets create an ambiance of warmth and joy. The robin's iconic red breast and charming presence lend a whimsical touch to your tea-drinking experience, making every sip a delightful journey into nature's embrace.
Not only are these pieces a visual delight, but they also make thoughtful and memorable gifts. The Robin Collection is perfect for bird enthusiasts, nature lovers, and anyone seeking a touch of enchantment in their tea time.
Step into the world of Roy Kirkham's Robin Collection and let the spirit of the robin accompany you on your tea-drinking adventures. Immerse yourself in the captivating beauty of nature and celebrate the harmony between artistry and the natural world. Elevate your tea experience with the timeless elegance and whimsical charm of the Robin Collection.
We've got a variety of collections available, meaning there is something for everyone. Feel free to contact us today to find out more about our fine bone china 'Robin Collection' or if you'd like to place an order. We'll be more than happy to help.