Classic Collection
"Have nothing in your house that you do not know to be useful or believe to be beautiful." These were the words spoken by William Morris, known as the 19th century's most celebrated designer and a champion of handmade production. The Roy Kirkham "Classic Collection" is inspired by his extensive work.
Detailed with gold accents and intricate in their design, the Classic Collection offers elegance and timelessness to your dinner table. Reminiscent of times gone by, this collection adds luxury and elegance to your home. Take a look at the range below, and contact us if you'd like to find out more about the range or about fine bone china. Browse through our collections today to find the ideal piece to add to your home. Please note that any pieces with gold detailing are not dishwasher or microwave safe.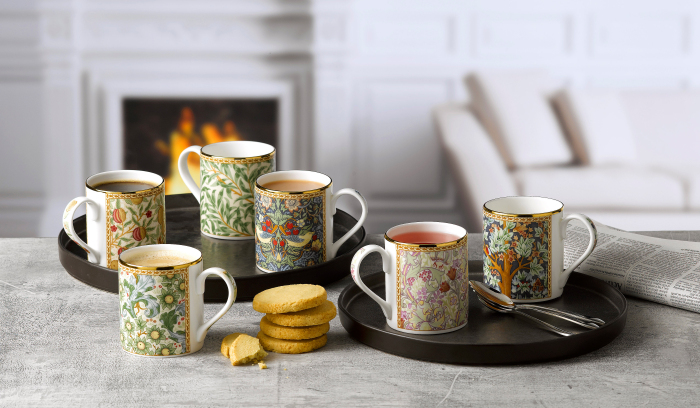 Included in this collection are a range of fine bone china mugs and cups and saucers. Each piece has been lovingly designed to include fine details and a mixture of subtle and vibrant colours to create a stunning portfolio on fine bone china. Patterns and imagery alike adorn the surface of the porcelain, creating an alluring design that you won't be able to take your eyes off.
Designed and detailed in the home of fine bone china, we take pride in our work, providing high quality china that will last you a lifetime. Surprisingly resilient, care should always be taken to ensure lifelong enjoyment of your china. Sudden temperature changes and the use of strong detergents may negatively impact the porcelain, so it's best to avoid these.
We understand that you may be finding it difficult to choose from our stunning range in the Classic Collection, but if you are interested in any of our cups and saucers here, don't hesitate to contact us to either place an order or to find out more about the designs. We'll be happy to help. If you would like to buy any of our products in bulk, please contact our team to discuss your requirements. We have a wide range of products available today with varying designs, so take your time browsing through our site to find the perfect one for you.