Alpine Strawberry Collection
The Alpine Strawberry collection is inspired by the wild beauty of "Fragaria Vesca", or Alpine Strawberry. Bright red and subdued green hues of the intricate botanical illustrations reach across the smooth glazed surface of each piece.
The collection boasts intricate detail, making it the ideal gift for a loved one, or to make a statement at your next vintage garden party.
The artistic Alpine Strawberry design shows the sought-after fruit held high, growing above the subtle, complementary green leaves. The sheer attention to detail of the motif displays the care and craft carried out throughout the collection's production.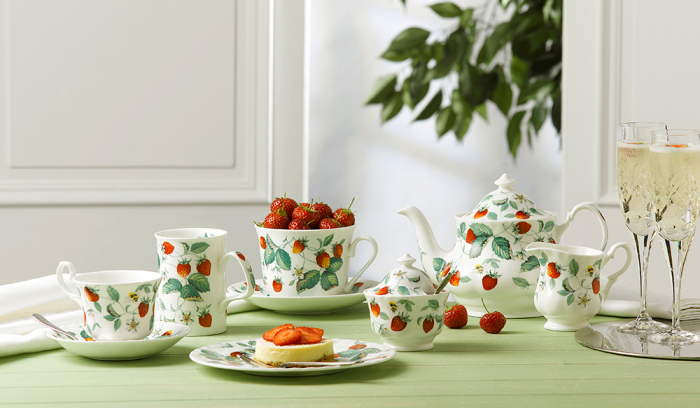 This stunningly sweet range includes our fine bone china tableware, as well as our textiles such as aprons, tea towels and tea cosies. The Alpine Strawberry collection is ideal for those who like to be reminded of the Summer months all year round, whether it's that all-important morning cuppa, or a celebratory gathering worthy of a bake off. Bring the colourful character to your home and garden with this Afternoon Tea-worthy design.
The Alpine Strawberry range provides you with the choice of tea drinkware, including Fine Bone Breakfast cups, Footed Mugs and Classic Mugs in a variation of sizes so you can select and specify your preferred handful. All drinkware items from this collection are Fine Bone and in sets of two or three to cater for multiple household members or guests.
The sugar bowl and creamer set from the collection is the perfect start when presenting your home-grown Strawberries to the family. While the 2-Tier Cake Stand and matching Apron make for a beautifully matching pair when it comes to baking and displaying cakes, scones, cupcakes and many other desserts and savoury food items.
We're proud to offer an aesthetically pleasing assortment of idyllic household items, all prepared with your interior desires at the forefront. We work hard to offer unique collections that allow for those precious, memorable home moments. All of our fine bone china products are made with only the highest quality in mind.
Contact us today to find out more about our range, or if you'd like to place an order, we'll be happy to help.