Palace Garden Collection
Have you taken a look at our Redouté Rose collection of fine bone china? Inspired by the artistic creations of Pierre-Joseph Redouté, these beautiful florals add elegance and beauty to your dinner table. The gentle pink hues of the roses combined with the traditional designs of the fine bone china create a traditional aesthetic, perfect for any tea party! If any of the products below are of interest, you can buy online or contact us today to make an enquiry or find out more information on any of our designs.
In the Palace Garden collection, you'll find a range of beautifully designed fine bone china pieces, including ceramic trays, sugar bowl and creamer sets, candles, cups and saucers, mugs, plates and coasters. Each of our pieces perfectly complements the other, so if you're looking to treat a loved one or a friend why not treat them to a mug and coaster combo? There are so many pieces to choose from so take your time browsing through the collection. Take a look at our other collections to find the perfect piece for you.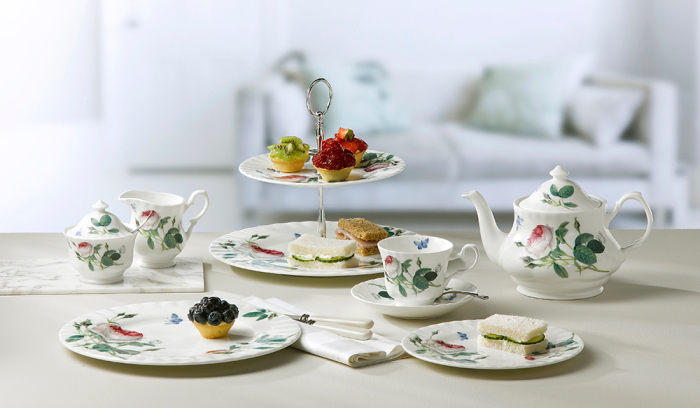 Every piece of fine bone china you purchase from us is manufactured with the highest quality in mind. Known for its sturdy qualities, fine bone china is ideal for those thoughtful gifts you want to last a lifetime. This added to the range of designs we have available make our products second-to-none. All of our designs are unique and the Versailles collection is no different. Ideal as a gift for a family member.
We understand that you may be finding it difficult to choose from our stunning range in the Palace Garden Collection, but if you are interested in any of our fine bone china products here, don't hesitate to contact us to either place an order or to find out more about the designs. We'll be happy to help. If you would like to buy any of our products in bulk, please contact our team to discuss your requirements. We have a wide range of products available today with varying designs, so take your time browsing through our site to find the perfect one for you.