Concert Collection
A symphony of flavours can be complemented with a symphony of sound! Our Concert Collection is ideal for bringing the concert hall to you, offering an orchestra of instruments depicted in classical symphony. If you are interested in this collection you can buy it online today. Alternatively, you can contact us to find out more about fine bone china. We'd be happy to help!
Whether you're a concert-goer, instrument player or instrument enthusiast, this is perfect for you. The musical notes depicted throughout the design give the illusion of an orchestra in full swing, with grand pianos, French horns, trumpets and violins adorning the fine bone china. The illustrations themselves offer a classic aesthetic for a classic collection.
The collection includes a teapot, a set of large breakfast cups and saucers and a set of mugs. Each piece is ideal as a gift for one of your loved ones or a treasured friend who is musically inclined, or if you're treating yourself, why not go for the whole Concert Collection? You can buy it online today! If you're not sure what you're looking for or would like to buy in bulk, you can contact us today and we will be able to help you with your requirements.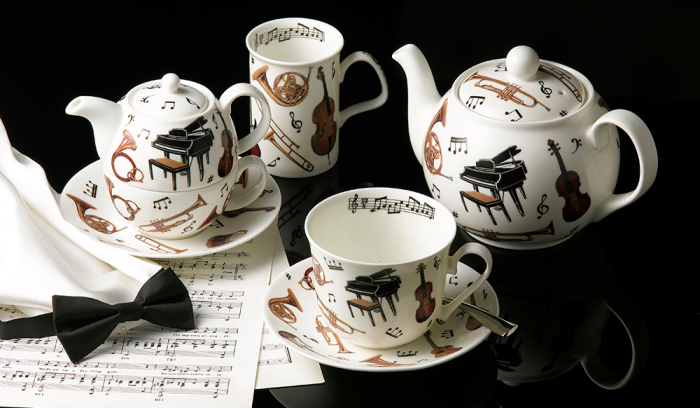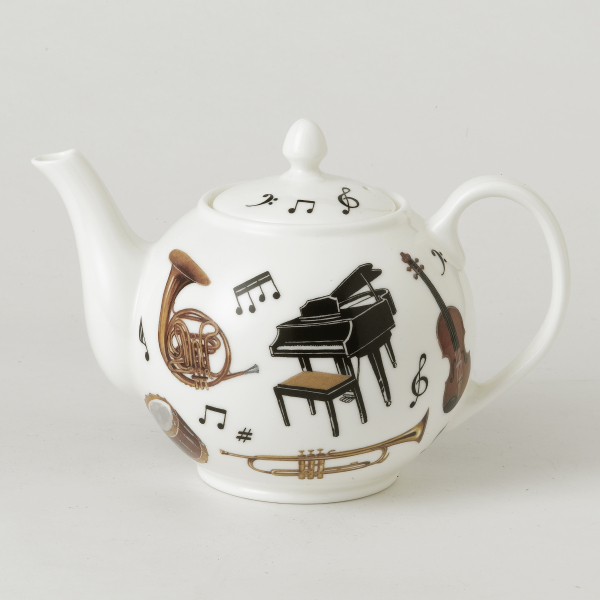 Concert Fine Bone China Teapot
US $

76.00
The quality of the materials we use for our products, help to make them resilient and high quality. However, special care must be taken in order to keep the china in good condition. They are dishwasher and microwave safe, however sudden changes in temperature should be avoided. We take pride in the quality of our products, but they also need to be looked after well.
We have many collections available on our site today, with a vast range of designs, colours and styles. We understand that it can be difficult to choose just one, so take your time browsing through our site to find the perfect design for you or as a gift. If you have any questions or would like to make an enquiry, contact us today and our team will be happy to help you. If you would like to buy any of our products in bulk, please contact our team to discuss your requirements.