Cat Collection
Ideal for cat-lovers everywhere, this range of fine bone china includes beautiful depictions of our favourite furry friends! In the words of Charles Dickens, "what greater gift than the love of a cat" and he's not wrong – take a look at the products we have to offer and get in touch with an enquiry or if you'd like to find out more.
No matter what type of cat you own, you'll love these beautifully designed china products. Featuring both grown cats and kittens, the watercolour art style brings a gentle, but captivating tone to the design. The colours on these designs are more neutral on this collection, representing the grace and beauty of these gorgeous creatures.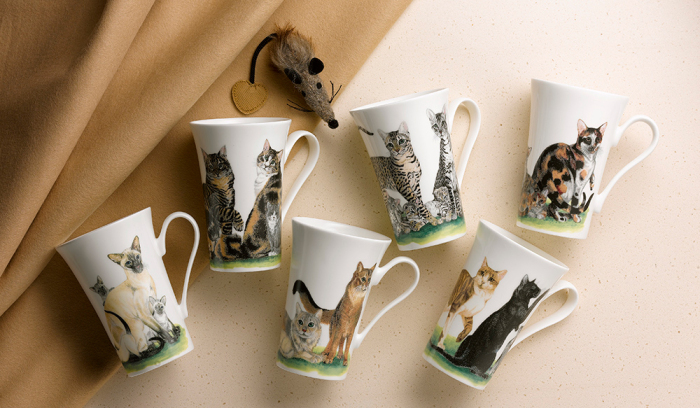 The collection includes a range of china, including large, "Emily" style mugs, a large china candle, and large "Lucy" style breakfast mugs. You can top off your collection and bake your favourite treats with a gorgeous adjustable apron. All of our products are ideal for gifting to a friend or family member, or you can treat yourself to beautifully unique fine bone china tableware.
Our mugs and candles are perfect for when you want to sit down and relax with your own feline friend! The porcelain collection of mugs come in two different designs: set A comprises a Tabby cat, a Tortoise Shell cat and a Mackerel Tabby cat (this design is also included on the porcelain candles), whilst set B comprises a Ginger cat, a Siamese cat and a Black cat. There is something for everyone!
We understand that you may be finding it difficult to choose from our stunning range of fine bone china, but if you are interested in any of our products in the collection here, don't hesitate to contact us to either place an order or to find out more about the designs. We'll be happy to help. If you would like to buy any of our products in bulk, please contact our team to discuss your requirements. We have a range of collections and products available, so why not browse through our website to find the perfect design for you?