Hummingbird Collection
Inspired by the mesmerising beauty of hummingbirds, our collection captures the essence of these delicate creatures in exquisite detail. In many cultures they are seen as a symbol of work, energy and good fortune. This elegant collection featuring the world's smallest and most beautiful bird is a wonderful addition to any home or kitchen.
Each piece in the Hummingbird Collection is meticulously crafted with attention to artistry and quality, ensuring that every sip of tea is accompanied by a sense of elegance and tranquillity.
Read more below.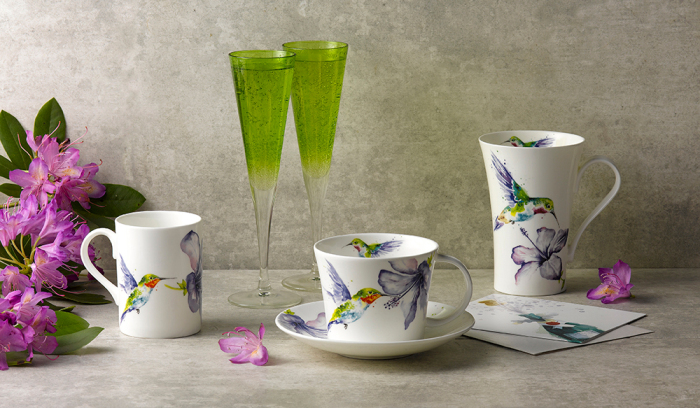 Immerse yourself in a world of vibrant colours and intricate designs as you explore our hummingbird-themed mugs, tea cups, saucers, teapots, plates and more.
Adorned with lifelike hummingbird motifs, delicate floral patterns, and graceful accents, these pieces exude a sense of enchantment, inviting you to embark on a journey into nature's harmonious embrace.
Whether you're hosting a lavish gathering or simply seeking a moment of tranquillity, our hummingbird-themed tea sets create an ambiance of refined beauty. The hummingbird's swift and graceful presence adds a touch of whimsy and fascination to every cup of tea, elevating your tea-drinking experience to new heights.
The Roy Kirkham Hummingbird Collection offers a range of sizes to suit various preferences and occasions. Whether you prefer a dainty cup for an intimate tea moment or a larger mug for a generous serving, we have options to cater to your needs.
We offer a Hummingbird Set of 2 VERY LARGE 600ml Fine Bone China Latte Mugs beautifully illustrated with Hummingbirds feeding from a Columbine Flower.
In addition to their visual appeal, the pieces from the Hummingbird Collection make exceptional gifts for nature enthusiasts, bird lovers, or anyone who appreciates the delicate wonders of the natural world.
Immerse yourself in the captivating beauty of nature and indulge in the perfect harmony of artistry and serenity. Elevate your tea experience today with the timeless elegance and whimsical allure of the Hummingbird Collection.
We've got a variety of collections available, meaning there is something for everyone. Feel free to contact us today to find out more about our 'Hummingbird Collection' or if you'd like to place an order. We'll be more than happy to help.