Dog Collection
Dogs are not our whole life, but they make our life whole. Our Dog Collection has been designed for dog people who adore breeds big, small, medium and barking mad. From dog mugs to dog tea towels, this fine bone china collection has everything you need to feel in the company of man's best friend, wherever you are.
Depictions of "Man's best friend" adorn the surface of each piece of this stunning collection. From Spaniels to devoted Labradors, each is painted in meticulous detail by artist K.M Hassall.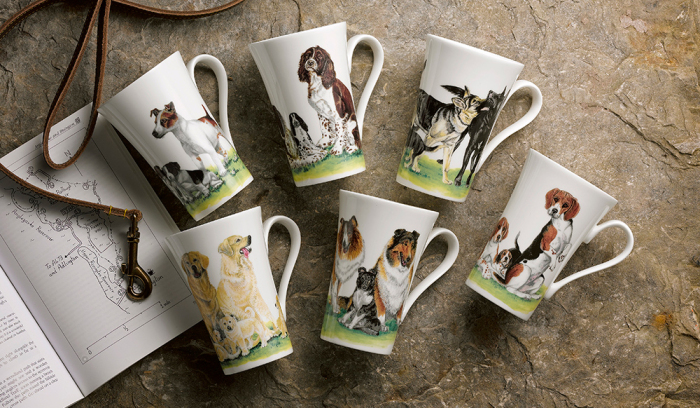 This popular Dog Collection boasts calm and friendly tones throughout, from the lovely golden glow of retrievers to calm, warming tones of curious spaniels. The detail of the dog tea towels, mugs, and aprons is intricate and simply stunning, making it the ideal gift for yourself or a loved one.
The dog mugs offer various dog breeds, illustrated beautifully and reaching across the smooth glazed surface of each piece. While our dog tea towels (pack of 2) and adjustable aprons are solely dedicated to reliable golden retrievers or lovable spaniels.
The cheeky character achieved by this Dog Collection makes it ideal to use on your own or when accompanied by loved ones. The dog mugs come in a set of 3, ideal for an afternoon tea weekend gathering. The aprons also allow you to match your fine bone china pieces while you bake tasty treats or delicious meals for such an occasion.
The sheer attention to detail here displays how much love and care has gone into these items from start to finish. The fine bone china mugs from this range are dishwasher safe, so you will be delighted with a worry-free, easy-clean experience after every use. We hope the dogs featured in this range provoke a smile with each occasion, making this collection one to remember.
We have a wealth of fine bone china collections available today, with various matching designs, colours and styles. Our fine bone china products are designed and manufactured in our Staffordshire factory with only the highest quality in mind.
If you have any questions or would like to make an enquiry, contact us today, and we'll take care of your specific requirements as well as we can. If you would like to buy any of our products in bulk, don't hesitate to get in touch to discuss your needs further. The team is more than happy to help.