Creative Writing Collection
In the wise words of Jack Kerouac – "One day I will find the right words, and they will be simple". Trying to choose the right words can be a difficult task for any aspiring author – but we'll think any writer or ardent bibliophile will have no trouble choosing the Creative Writing Fine Bone China Collection to help inspire your wildest imagination. If you're interested in any of the products you see below, you can buy all of them online today. Alternatively, you can find out more about our products by contacting us.
The antique aesthetic of the books depicted in this stunning collection offers a classic scene of old books in a library or in a stately home. The colours are eye-catching and exquisite, supporting the stories that lay within each book. Any writer or book enthusiast would be delighted to receive such a thoughtful gift!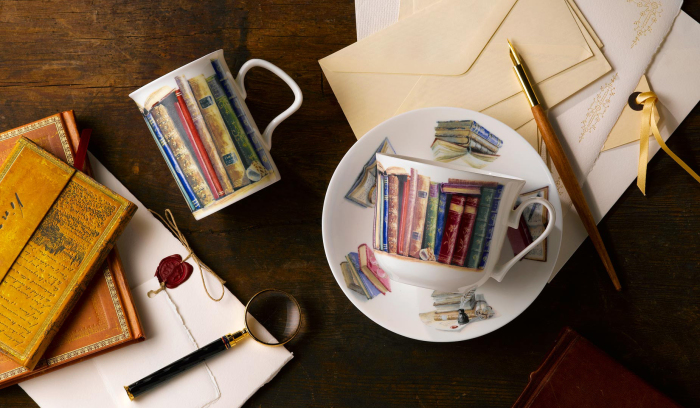 Our Creative Writing Fine Bone China Collection includes a set of 2 large breakfast cups and saucers. These products are ideal for your cup of tea or coffee to help you brainstorm ideas or start getting your words down onto paper. If you're an avid reader, perhaps a cup of warm tea whilst you read your favourite novel would make the perfect combination. The high quality of our fine bone china means you can enjoy your favourite beverage again and again - they are made to last a lifetime.
Although they are made to last a lifetime, care must be taken to ensure they remain in good condition throughout their life. The Creative Writing Fine Bone China Collection is microwave and dishwasher safe, but pouring extremely hot liquids into the china could result in cracks.
We have many collections available on our site today, with a vast range of designs, colours and styles. We understand that it can be difficult to choose just one, so take your time browsing through our Creative Writing Collection to find the perfect design for you or as a gift. If you have any questions or would like to make an enquiry, contact us today and our team will be happy to help you. If you would like to buy any of our products in bulk, please contact our team to discuss your requirements.