Birds Collection
This beautiful fine bone china collection presents calmness, serenity and elegance. The range shows a unique British bird on each piece. Each of them illustrated gracefully on this charming range in a delicate nature. The idyllic design helps make this range an essential assembly for any bird-lover.
The vivid colours shown throughout the range are unique to each, presented on a simple and elegant white background. The tones used are intricate, expressing the characteristics of such graceful animals.
A wide variety of birds are visible across this drinkware range, from Robins and Goldfinches to Great Tits. You will be able to sit back in the garden and match your fine bone china collection to the birds who visit your patch of land.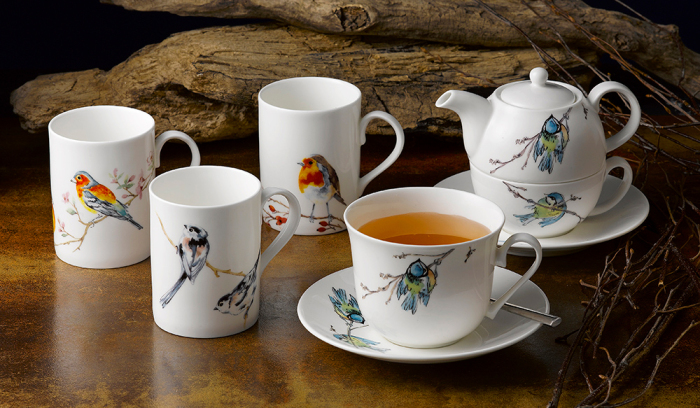 The collection includes four sets, each ready to serve up a cosy cup of tea. Amongst the range is a matching pair of fine bone china items, a Tea for One Teapot with Tea Cup and Saucer and a Set of 2 Large Breakfast Cup & Saucers. These item sets are idyllic while suitable, whether you're in need of a quiet cuppa or a tea party with guests.
There is also a Set of 3 Fine Bone China Mugs (Set A) and another set of 3 (Set B) in the range. Each mug across the two sets is unique, covering different kinds of birds. Although the birds on the range items are individual, the tranquil and delicate design resonates throughout the collection. Meaning each item can sit next to any other in the range and look at home, in your home.
All mugs are standard size mugs, sustainable and smooth for that all-important cup of tea. Each item in this collection is dishwasher safe, ridding the user of the post-tea break wash-up.
We have a wide variety of collections available, meaning there is something for everyone. Enjoy a browse through our stunning fine bone china collections, all designed and made of the highest quality fine bone china.
Contact us today to find out more about our range or if you'd like to place an order. We'll be more than happy to help.