Redoute Rose Collection
The Redoute Rose is a renowned piece of artwork by Pierre-Joseph Redoute known as "the Raphael of flowers" which has inspired our collection here. He was a Belgian painter and botanist, famous for his watercolours of roses.
Our collection of beautiful tableware is inspired by the famous artist's rendition of the rose, combining subtle colours and intricate detail to bring his artwork to life.
Take a look at the range below, and contact us if you'd like to find out more about the collection's fine bone china pieces. Browse through our items today to find the ideal piece to add to your home.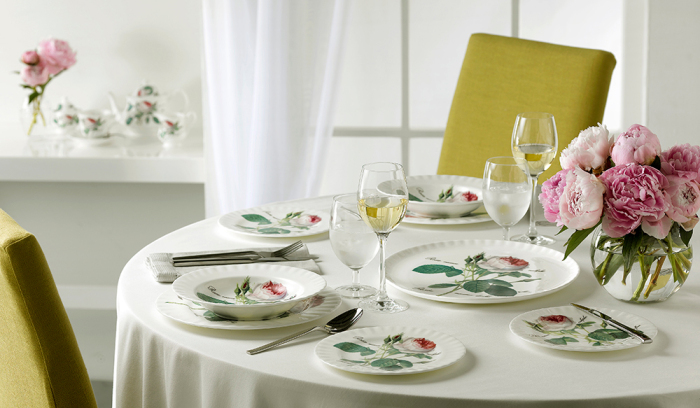 This fine bone china collection includes a large range of products that would be ideal to add to your kitchen accessories. Redoute rose teapots, mugs, cups and saucers, plates and candles amongst many more are included in the range, but we also have a range of textiles to complement your china – aprons, tea towels and tea cosies. Why not treat yourself to the whole collection?
The subtleties of the colours used throughout the collection are perfect for a warm summer's day in the garden, whether you are entertaining guests or sitting back and relaxing in your own company. The design and detail immediately draw your eye to the pieces, leaving little room for doubt that Pierre-Joseph Redoute was truly a master of his art.
These pieces are ideal for both home and gifting. Treat a loved one or close friend to a piece of fine bone china from this collection. Manufactured using traditional techniques, our collections are only made with the highest quality in mind, something they can truly treasure forever.
We understand that you may be finding it difficult to choose from our stunning range in the Redoute Rose Collection, but if you are interested in any of our fine bone china products here, don't hesitate to contact us to either place an order or to find out more about the designs.
If you would like to buy any of our products in bulk, please contact our team to discuss your requirements. We have a wide range of products available today with varying designs, so take your time browsing through our site to find the perfect one for you.
If you have any questions, feel free to visit our FAQs page to see if your query has been answered here already. If you'd like to know more information, fill out a contact form or give us a call via phone or email. We're here to help.