Berni Parker Collection
The well-known illustrator Berni Parker brings her unmistakable style to this collection of fine bone china mugs and tea towels. Inspired by a love of life, family, friends, her own whimsical imaginings, and the gentle beauty of the Worcestershire countryside. Each design holds complete originality and memorable narratives for all to enjoy.
The artistic illustrator, Berni Parker, is well known for her character creations as well as her ability to portray the idyllic English countryside in all its glory. This collection is touchingly sentimental due to the illustrations surrounding relationships, home life and general positivity. The humorous personas make this collection a perfect gift for loved ones.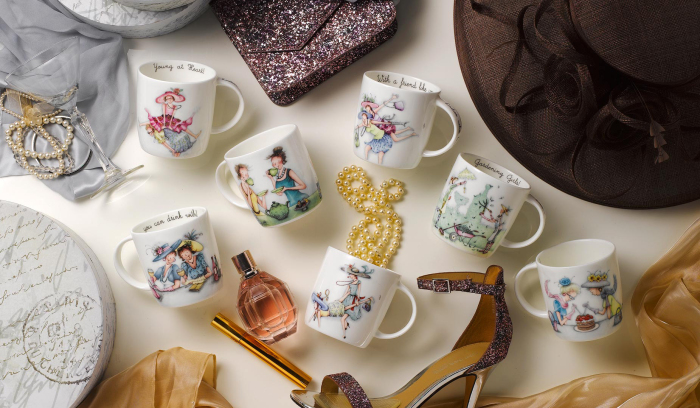 This Berni Parker collection includes fine bone china mugs and tea towels, boasting three Fine Bone China mug designs, A, B and C, each available in a set of 3. The artwork is also applied to the product interior, allowing you to view the motif from all angles. The design is subtle yet memorable, making this range the perfect gift for friends and family. The drinkware goes hand in hand when mixed and matched, and they all synchronise perfectly with the Berni Parker Tea Towel set of 2.
The Berni Parker Set of 2 Tea Towels are practical kitchen additions, and on both towels, there is an added loop in the top left corner so you can hang them for maximum convenience. The tea towels come as a pair, so there's always one free to use while the other is in the wash. The high-quality material displays a polka dot pattern and a quirky illustration for friends to fall in love with, making for a stunning gift set.
Friendships last a lifetime, and this sustainability resonates with this fine bone china collection, fit to get your loved ones through generations of tea drinking. The gracefully designed fine bone china items are also dishwasher safe, meaning you can relax and enjoy an easy clean up after every use.
We hold a diverse range of carefully designed collections, meaning there is something for everyone. Welcome yourself into our stunning fine bone china collections, all designed and made in the heart of Staffordshire. Contact us today to find out more or if you'd like to place an order. We'll be happy to help.