Butterfly Garden Collection
An increasingly uncommon but welcome sight in English gardens. These magnificent creatures in a myriad of patterns and hues will bring a splash of colour to your home and kitchen. If you'd like to place an order for any of the products you see in the collection below, don't hesitate to contact our team and we'd be happy to assist with your enquiry.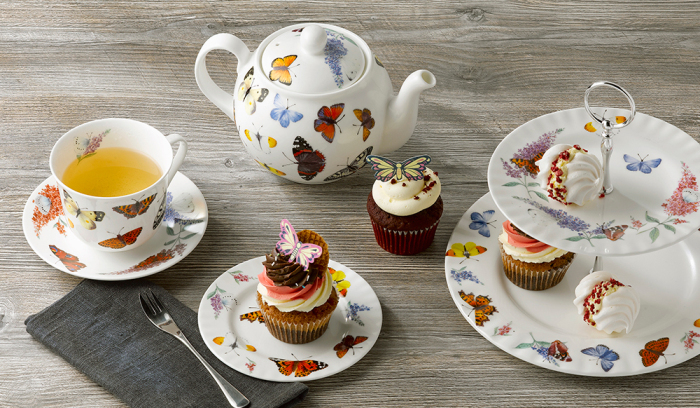 Bring the countryside to you with the Butterfly Garden collection. Adorned with both butterflies and delicate floral imagery, our range of fine bone china are the perfect addition to your kitchen. Find the Red Admiral, Common Blue, Painted Lady and more across the collection.
In the UK, 60 butterfly species exist, with 20 of them being identified in gardens. If you're struggling to find these butterflies in your garden, you can find them in your kitchen instead with the beautiful design of some of the most common UK garden butterflies.
The vibrant and colourful patterns of the butterflies are depicted on our china and reflect the grace and delicacy of these little creatures. Garden butterflies are in abundance throughout spring, summer and autumn, so it's always best to plant flowers in the sun to attract them into your garden. That's why we included some of these butterflies' favourite flowers on our china too.
This collection includes a range of fine china including mugs, cups and saucers, a teapot and a tea for one teapot and cup and saucer set. All of our products are designed and made of the highest quality fine bone china. Browse through the different products in the collection today and discover the perfect gift or home addition.
We have many collections to offer to you today, so take a look through our website and see what takes your fancy. All of our collections are beautifully designed with a range of patterns and colours, so there's something for everyone. Contact us today if you're interested in purchasing any of our products, or if you'd like to find out more or make an enquiry. We'll be happy to help. If you would like to buy any of our products in bulk, please contact our team to discuss your requirements.