Cats Galore Collection
This collection is perfect for ailurophiles everywhere! Beautiful illustrations of these graceful and mysterious creatures are captured perfectly by artist K.M Hassall in this classic collection of fine bone china. Contact our team today to make an enquiry or to buy any of our products. We'd be happy to help.
Another style of cat artwork makes our collection of cat mugs difficult to decide between! Offering another realistic depiction of the graceful creatures, cat-lovers and owners understand the love of a cat better than anyone. "Cats Galore" really is what it says on the tin!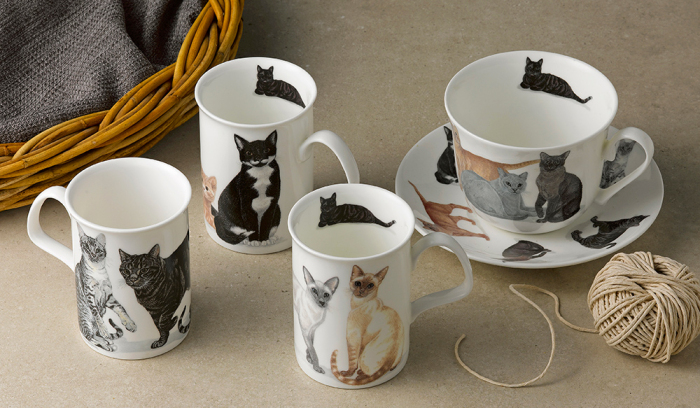 This collection has a range of drinkware, which includes two sets of "Lancaster" shaped mugs which include different designs and a set of two cups and saucers. The intricate detailing on each of the cats depicted in this collection brings the creatures to life on the surface of the porcelain. This collection is perfect as a gift for family or friends or as an addition to your home. Perfect for relaxing in the garden or on the sofa with a cup of tea or coffee!
A white background behind the cats really draws your eyes to the detailing of each individual feline - from the colours to the characteristics, this design of fine bone china is perfectly captured in the style of art. The white background also makes the colours and details pop from the porcelain, bringing life and character to the beautiful creatures. Each piece comprises multiple different cats, varying in colours so there's something for everyone!
We have many collections of cat mugs to choose from so take your time browsing through the collections to find the perfect design for you. We also have many other collections to choose from, which vary in style, design and colours. If you are interested in anything you see on our site including the collection here, don't hesitate to get in touch with us to ask any questions you may have or to make an enquiry. If you would like to buy any of our products in bulk, please contact our team to discuss your requirements. We'd be happy to help.