Countryside Collection
There's nothing more peaceful than the country life, with the smells of fresh country air, the sights of rolling green fields and the sounds of the birds singing in the trees. That's why our Countryside Fine Bone China Collection is perfect for the country folk! If you're interested in any of the products you see below, you can buy all of them online today. Alternatively, you can find out more about our products by contacting us.
The artwork depicting the countryside in this collection is a beautiful illustration of what it means to live in the country – farming! The antique tractors are reminiscent of the days before the modern tractors and add a charming quality to the collection. The colours are subtle and gentle, offering you the unblemished rustic charm of rural life captured in simple perfection. The watercolour effect of the imagery denotes a dreamy landscape which you could easily imagine yourself in, drinking your morning tea or coffee.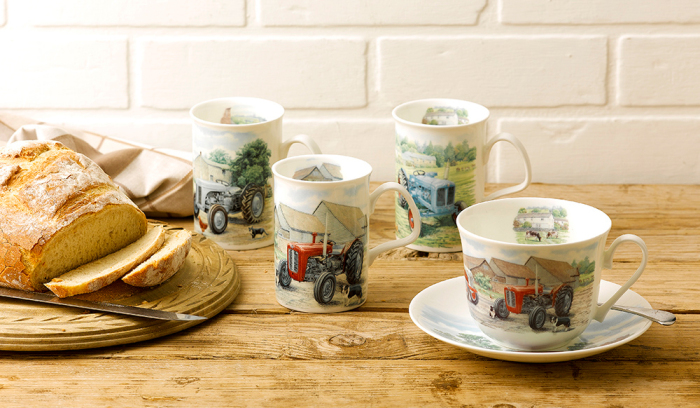 The Countryside Fine Bone China Collection includes cups and saucers and mugs. The mugs come as a set of 3, each depicting an antique tractor. The unique design and art style of the collection means that it will make an ideal gift for a friend or loved one or if you're looking to treat yourself, why not buy the whole collection? Our high quality products ensure that anything you buy from us is made to last.
Although our products are made to last, care must be taken to ensure they withstand long-lasting use. The collection in dishwasher and microwave safe but caution is advised when pouring extremely hot liquids in the fine bone china, as it can cause fragile cracks.
We have many collections available on our site today, with a vast range of designs, colours and styles. We understand that it can be difficult to choose just one, so take your time browsing through our Countryside Collection to find the perfect design for you or as a gift. If you have any questions or would like to make an enquiry, contact us today and our team will be happy to help you. If you would like to buy any of our products in bulk, please contact our team to discuss your requirements.