English Meadow Collection
Nothing says spring like fully bloomed wildflowers! The English Meadow Collection conveys all the natural colour and beauty of a season in full bloom. Poppies, bluebells and other wild flowers grow freely over every surface of this exquisitely-crafted, fine bone china. If you are interested in this collection you can buy it online today. Alternatively, you can contact us to find out more about fine bone china. We'd be happy to help!
The vibrant reds of the Poppies beautifully complement the gentle lilacs of the Bluebells. Wildflowers are well-known for their random colours and shapes which create a beautiful canvas. This has been lovingly depicted on the English Meadow collection. The colours are subtle and gentle, which corresponds brilliantly with the easing into the new season and promoting new beginnings.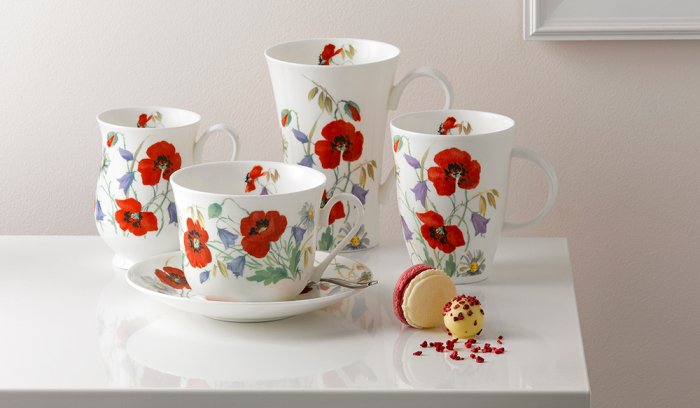 The flowers grow freely over every surface of this exquisitely-crafted, fine bone china collection and offer a soothing, calming aesthetic that is reminiscent of a peaceful meadow in the spring sun. They are perfect for a garden party with your friends or for a relaxing drink out in the sunshine after a long day. The collection includes a tea for one set, large breakfast cups and saucers, footed mugs and standard mugs. The fine bone china is high quality, meaning you've bought something to last you a lifetime. Each piece is ideal as a gift for one of your loved ones or a treasured friend, or if you're treating yourself, why not go for the whole collection? You can buy it online today!
We have many collections available on our site today, with a vast range of designs, colours and styles. We understand that it can be difficult to choose just one, so take your time browsing through our site to find the perfect design for you or as a gift. If you have any questions or would like to make an enquiry, contact us today and our team will be happy to help you, but all of our products are available to buy today. If you would like to buy any of our products in bulk, please contact our team to discuss your requirements.