Alliums Collection
The Alliums collection is inspired by the headstrong blooms, "essentialists of the sensual". The beautiful deep purple spheres of the flower, commonly known as the "Purple sensation", reach out in a riot of geometry and complexity, making this range an ideal choice for many interior visionaries.
The sought-after plants produce big, round flowers that cover multiple shades of purple. Alliums bloom in early summer and tend to last for only three weeks, making this stunning design all the more desirable in its rarity. With that vibrant pop of purple tones across the design, the collection makes the perfect gift for those who'd prefer their day to be a little brighter. Treat your loved ones to this divine collection and celebrate the occasion in style.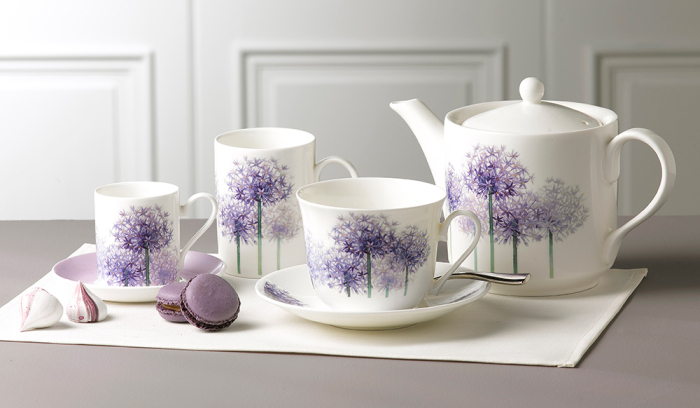 The Allium range includes fine bone china mugs, teapots and cups & saucers to cover any number of guests and family members. The fine bone china mugs, breakfast cups & saucers and can cups & saucers come in sets of two, three and four to allow for several hot beverage servings. The fine bone china drinkware sets also provide a consistent interior uniformity displayed in a gentle touch of floral.
The simplicity and charm of this gorgeous fine bone china demonstrate a product handled with care and heart throughout its journey to you. The delicate design and high-quality standard mean you'll be celebrating with this fine bone china for years to come.
With this Allium range, you can display your colourful summer garden tones across your home interior, all year round. It's safe to say that the botanical aesthetic of this collection will never go out of style. Find comfort in nature and your favourite hot beverage, whatever the weather.
All of our fine bone china products are made with only the finest quality in mind. The Allium range items are all dishwasher safe for easy cleanup, making the collection a pleasure to use on a daily basis.
Contact us today to find out more about our Allium range or if you'd like to place an order. We'll be happy to help with any queries.