Animal Fashion Collection
Prepare yourself for a china range like no other with this animalistic dream. Our Animal Fashion collection is a quirky and comical array of cool cartoon cats and dogs pencil sketched by artist Kevin Wood. This uniquely designed bone china range takes charisma onto a whole new level.
This wonderful, eccentric collection carries five china pieces, catering for multiple family members and guests. The range is friendly and shows a humourous nature, making it the perfect gift for the kind-hearted cat and dog lovers in your life.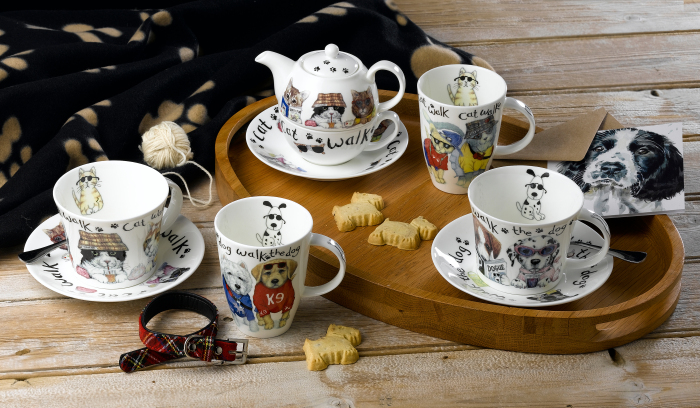 Kevin Wood is a self-taught artist who developed his talent for drawing whilst working within the pottery industry in Staffordshire after moving to the area in 1989. His art is unique and recognisable due to the quirky narrative featured in his works. He displays imaginative personas and certainly shows off his soft spot for animals throughout his motifs.
The cheeky character traits make this fine bone china collection one of a kind. Both the cat walk and the walk the dog designs curl around the interior and exterior of the drinkware, while the saucers follow suit. The animal fashions range shows a variety of breeds, fur colours and, of course, chic fashion accessories. The dog and cat-themed accessories are sure to provoke a smile and are what make this collection one to remember.
This range includes china mugs, cups and saucers. The collection is available in sets of two and three to cater for multiple hot beverage servings, whether you enjoy tea, coffee or everything in between. And, your preference of mug shape is taken care of as both fine bone china breakfast cup & saucers and mugs options are available.
The fine attention to detail displays how much care has been taken with this collection, from start to finish. Our Animal Fashion range items are all dishwasher safe, so you'll be delighted with a worry-free, easy-clean experience with every use.
All of our fine bone china products are made with only the highest quality in mind. Contact us today to find out more about our range or if you'd like to place an order. We'll be more than happy to help.